---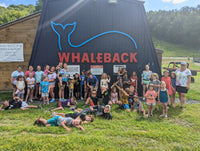 Whaleback Mountain Nature and Arts Day Camp!
Our Mission

Whaleback Mountain Summer Day Camp inspires kids to explore their passions and build confidence in an exciting and unique day camp that emphasizes independence, friendship, discovery and fun.
Whaleback Mountain, established in 1968, has always provided a fun and safe environment for kids to grow and learn life skills! We have expanded our programs into summer with an awesome day camp open to kids ages 5 to 12! Your child is going to love this fun nature and arts camp. Our professional and caring staff will guide your kids through daily nature exploration walks, wilderness education, daily arts & crafts, sports including beach volleyball, kick ball, strider bikes, cooling off with sprinklers, water balloons, daily surprises and much much more!
We keep a consistent staff to child ratio of 1 staff to 8 kids. All staff are professionally trained, super fun and will help your child gain confidence and life skills through outdoor recreation.
Daily snacks and bottled water is provided as well as lunch on Fridays only. You should pack your child a lunch Monday-Thursday.
Drop off begins at 8am and your child must be picked up by 4:30pm 
2023 Dates:
6/26/23-6/30/23
7/10/23-7/14/23
7/17/23-7/21/23
7/31/23-8/4/23
8/7/23-8/11/23
8/21/23-8/25/23
Costs: $275 per week which includes lunch and daily snacks. 
Cancellation Policy: Cancel up to 14 days ahead of the start of camp for a 50% refund. Cancellation after that date will be non-refundable.