---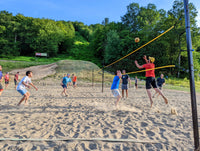 Thar she blows!  Beach Volleyball has landed at The Whale!
Two sessions:
June 16th- July 21st and July 28th- September 1st
Start Time: 6pm
Each team of 2 will play at least 1 game per night on one of our two brand new beach volleyball courts.  USA Volleyball rules: First team to 21, win by 2, wins!  Complete rule list can be found here:  https://usavolleyball.org/resource/beach-volleyball-basics/
This league is open to all ages, skills and abilities from the beginner to the expert player!  21 and under must be accompanied by a parent or legal guardian.  The bar and grill will be going the whole time!
Pre-register below or just show up on Friday night to join in on the fun!
Costs:
$20 per team per session with the option to add on custom Whaleback Beach Volleyball visors for your whole team OR register individually at $5/person and be paired up with another individual.
So grab your mates and come on down to The Whale for some beach volleyball and brews!